Èdith Butler's mother got quite a shock when she opened up the newspaper back home in tiny Paquetville, New Brunswick one day in 1963. She read that a young woman with a familiar name was going to be on TV, singing traditional Acadian songs. And she was from their hometown!
"She told my father, I see this girl, Èdith Butler, do you think she is our girl?" Butler laughs at the memory now. "I was a student in Moncton at Notre-Dame-d'Acadie. So I didn't tell everything that happened to my parents, who were in Paquetville. She couldn't believe that."
There were a few good reasons why Èdith's burgeoning singing career was a surprise to her mother. Chief among them was that Èdith had rarely sung back home growing up. Even though she was very musical, and played instruments around the village, she was also very shy.
"When I was home, I played the piano and guitar, but I wouldn't sing loud, I would just mumble," she says. "I don't know why, but I was too shy to sing for my parents. I think that's why she didn't understand what was happening with me on TV."
There was even more of a catch. The TV show on which she was a guest wasn't a French one on Radio-Canada, but rather an English one, on CBC-TV, Singalong Jubilee. But Butler would indeed sing in her native language. It was very rare at the time to hear any French songs on English TV and radio (and still is), let alone traditional Acadian music from that small region. Singalong Jubilee, however, was all about the music first, and they had liked what they heard from the young singer.

Butler was the first person to bring the story of Acadie, the Francophone area of the Maritime provinces, to the rest of the country, in song. "I was the only one," says the trailblazer now known as the Godmother of Acadian music. "It started out when I did some radio shows in Moncton, and it was talked about to some people who were on Singalong Jubilee. And one weekend they invited me down to Halifax. There was Brian Ahern (the future producer of Anne Murray and Emmylou Harris), Bill Langstroth (Singalong host and later manager and husband of Anne Murray), John Allan Cameron, they were all there. I just arrived and it was a big party, and they asked me to sing. So I took out my guitar and I started singing these Acadian songs, and at the end of the party, they said 'You're in!' And that's how it happened. Whoops! I was on Singalong Jubilee."
It might have been a smaller, laid-back production from Halifax, featuring folk music, but Singalong packed a ratings punch. At that point, it was the summer replacement for Don Messer's Jubilee, and the time slot regularly grabbed over two million viewers each broadcast. With Butler now a cast member, and getting almost weekly solo spots, she became a star. At least, for part of the population. Ironically, she was well-known in English Canada singing French songs, way before she was a French Canadian star.

"It was all over Canada," says Butler. "Sometimes I go out West, and the old people still remember that."
So do the Acadian people. Long marginalized in small villages in parts of New Brunswick, Nova Scotia and P.E.I., Acadians had seen their culture smothered, along with their language. By the early '60s, with political and language rights starting to be recognized, artists such as Butler, fellow P.E.I. singer Angèle Arsenault, and playwright-novelist Antonine Maillet were able to make important leaps to promote their culture.

"We had to build everything up from almost nothing," Butler says. "There was no structure, no help, there was nothing."

Butler's first recordings were on strong-selling Singalong Jubilee cast albums. She was also featured on a CBC promotional album alongside another performer on the program, Gene MacLellan, with each future star receiving a side. Butler even did a joint concert with MacLellan in July of 1969 at the Confederation Centre in Charlottetown, where she sang his new composition, "Snowbird," in French. That was a year before their Singalong colleague Anne Murray had her hit version of the song. "In 1970 I went to Japan (for Expo '70 in Osaka), and Anne Murray did "Snowbird" and she became known worldwide. I came back from Japan, and she was all over the place."

Butler left Singalong Jubilee at the same time as Murray, and headed out for her own bigger success. She moved to Montreal to continue her education and finally got around to conquering Quebec. Her debut full-length album on Columbia Records came out in 1973 and was an immediate success. "I did a promotional tour on radio and TV shows and all of that, and people noticed me right away. It really started strong. With that album, I went and toured in France too."

She found out that just like English Canada, the audiences in Quebec and France knew almost nothing about the Acadian people. "When I came to Quebec, I would tell them, 'I'm an Acadian,' and they would say, 'Is that in Gaspe Peninsula?' I'd respond with, 'No no, it's in the Maritimes.' For a long time, nobody knew what it was."

Now, Francophones all over the world know about Acadian culture and have an image of lively, spirited, fun people. Much of that comes from Butler's music, especially from her gold-selling successes of the late '70s and '80s such as Le Party d'Èdith. Then of course there's her most famous hit, a song enshrined in the Canadian Songwriters Hall of Fame. Somehow Butler managed to make her tiny hometown back in Northern New Brunswick's Acadian Peninsula world famous. She'll always be best-known for the beloved, catchy "Paquetville."

"That's so strange because it was just for one night," she says of writing the song. "It was for the 100th anniversary of the village. So I only used two chords, a C and a D. It was so simple, people started singing it and playing it, and it never stopped. Everywhere I go they start at the beginning of the show, asking for "Paquetville," and I always tell them, 'No no, I have to do my show, you wait, I have to do it at the end.'" Just like her long-time friend and fellow Maritimer Anne Murray, and her signature song, "Snowbird."
After 27 albums, countless awards and honours at home and in France, and even being one of the rare singers honoured with her own stamp by Canada Post, Butler thought she would age gracefully at this part of her career. "I really thought I would continue singing, but my albums would be softer, so when I'm older I can sit down on stage and sing some little soft songs, love songs." She didn't count on meeting Lisa LeBlanc though. The upstart Acadian singer from the equally tiny community of Rosaireville, N.B. is one of the new generation of Acadian stars, whose debut album sold a stunning 125,000 copies in French Canada and Europe.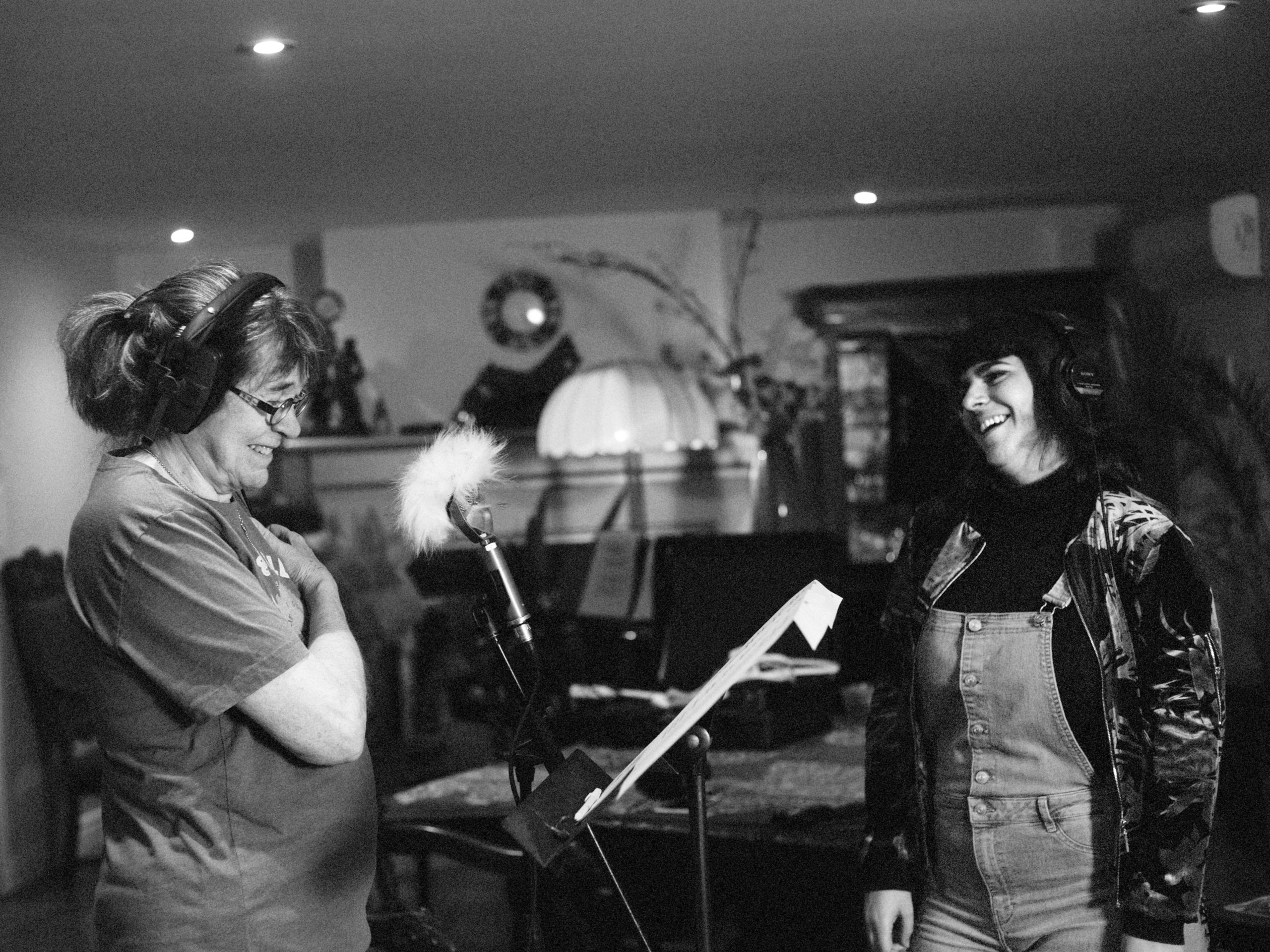 Known for her banjo-driven, roots sound that she dubbed "trash folk," LeBlanc idolized Butler as the trailmaker for Acadian musicians, and relished sharing the stage with her on a couple of Radio-Canada specials. After the latest, she got up the nerve to ask Butler if she could produce an album for her.

"She told me, 'I want to take you to your roots, I want to go to the girl from Paquetville, and take the roots of her and bring it out of your guts.' She took me out of my comfort zone, and she told me, 'You're going to be a bit more edgy, a bit more rock, it's gonna be trad and rock.'"

The resulting album, Le tour du grand bois, came out at the end of August and has already earned great reviews and another round of huge respect for Butler. There are updated versions of some of her old songs, now pumped up with LeBlanc's fiery edge, some Cajun and traditional numbers, and a brand-new co-write from the pair, along with Butler's longtime writing partner Lise Aubut. 

For Butler, it's especially sweet to be able to see how far Acadian music has come since she started popularizing it almost six decades ago.

"I am very, very proud of my people. There are so many of them that are genius musicians. All sorts of art, these people are coming out with all sorts of music, not just trad rock and country, but jazz, rap, also in theatre, in literature, painting, sculpture, there are so many nice things going on."
Butler not only gets to observe the fruits of all the work she did promoting Acadian culture, she gets to take in the latest version of it too. So much for sitting on stage singing nice love songs. "Lisa LeBlanc came and took me completely out of there, so now I have to go on tour and rock. And at my age! But it feels so fun, it's so full of life."
Butler did eventually explain to her mother that she had a singing career. "After that, she became my number one fan. Sometimes I would call her, and she would say, 'I can't talk to you now because you're on TV.' I'd have to phone back when the show was over."