These days, Alan Doyle and Séan McCann toil the road as solo artists, following the lines to wherever music lovers live. Twenty-five years ago, the pair — along with Bob Hallett and Darrell Power as beloved Celtic rock band Great Big Sea — travelled those same highways, crammed in a van, playing more than 200 nights a year and filling venues from sea to sea.
Great Big Sea's repertoire featured sea shanties, drinking songs, and traditional Newfoundland folk music with a modern twist. The band always sprinkled in covers of rock-songs-reinvented, a nod to their early days when, as students just trying to pay off their university loans in the band Rankin Street, they were darlings of the St. John's George Street pub circuit.
These four Newfoundlanders perfected a formula. Before long, they took their traditional folk songs to the rest of Canada. Great Big Sea released its independent self-titled record in 1993 with the hopes of attaining a record deal.
Despite fellow East Coast bands like The Rankin Family and The Irish Descendants getting signed, the labels passed. Not ones to throw in the towel, Great Big Sea did what they did best, going back to work and playing live to rowdy and receptive audiences.
Their goal: to secure a record deal within two years.
In the wake of Great Big Sea's DIY success — selling 10,000 copies of their indie release — the major labels finally called. Warner Music Canada signed them in 1994 and released their major-label debut, Up, the following year. The record went platinum, selling 100,000 copies.
Less than 364 days later, building on this momentum — and with more money from Warner — the foursome re-entered the studio they had built in the Battery Hotel on Signal Hill in St. John's to work on the follow-up: Play.
The stage was set to repeat Up's success. They had the songs — most written and workshopped on the road over the past two years. Was there pressure? Sure, nerves existed, as they wanted to avoid the sophomore slump. But the band was confident and ready. Sequestered for a month in the Battery basement, working again with producer Danny Greenspoon, Play was born.
The record was nominated for a pair of JUNOs — Group of the Year and Best Roots or Traditional Album: Group — and swept the East Coast Music Awards in the year following its 1997 release.
To mark Play's 25th anniversary, Amplify chatted with Doyle, McCann, and Greenspoon to reflect on Great Big Sea's biggest-selling record.
"What I remember most about Play is that we were all focused and going in the same direction," recalls McCann, via Zoom, from his Manitock, Ontario home. "That's the reason it was so successful. We knew we were in a position to capitalize on the work we had done. We were confident and in agreement. There was a real unity and a sense of purpose. The dogs were facing the same direction and all pulling the sled together.
"That is what that record really was," he adds. "As we moved away from that record, life took over, you get tired, and you start to want to do different things, but on Play, we had perfected the thing. We spent two weeks in the rain and the fog and that is what came out — a band finding its legs. It was like a train going too fast … there was a certain reckless abandon."
Since its release, Play has gone five-times platinum, selling more than 500,000 copies.
"To sell a half a million records in Canada is huge," McCann says. "That is like selling five million in the U.S. We were lucky we had that. Most bands don't get that far, and have a record like that."
Before hooking up with Great Big Sea, Greenspoon had produced Spirit of the West's (SOTW) Save This House. The Newfoundlanders were big SOTW fans and Warner felt the Toronto-based producer was the perfect match for these studio newbies. The label sent Greenspoon a demo; initially, he was nonplussed.
"I did not get it," he says, from his Toronto home. "I'm a big believer you need to see bands live. Great Big Sea was playing at The Horseshoe Tavern in Toronto, so I went to see them play. The place was packed to the rafters and the audience was going out of their minds — the energy and charisma coming off the stage was astonishing. I thought, 'ok, this is what is going on … this is what I have to capture.'"
McCann calls Greenspoon a "good music head" and credits the award-winning producer for teaching Great Big Sea the language of the studio.
"We were really green on Up," he recalls. "That record felt like us trying to find our way, but on Play we knew exactly what we wanted to do and we executed it quickly."
Catching up with Doyle finds the Juno-nominated artist at his home studio in St. John's, taking repose before heading out on the CP Holiday Train. Doyle sports a black hoodie sweatshirt and a Haywire t-shirt. Guitars and instruments adorn the walls. Doyle strums a mandolin, then settles in to chat.
Right away, the songwriter admits there have been so many records and tours in the ensuing years that he had to refresh his memory of all the songs on Play. Doyle agrees Greenspoon was a good fit for the band and that Play was much more refined than Up and showed the maturation of the band in the studio.
"I remember when that record was mixed, listening to it and thinking that a couple of songs in particular: 'Ordinary Day' and 'When I'm Up (I Can't Get Down)' felt like the first time we made the studio work in our favour," he explains. "We were always a great live band, but recording was so new to us.
"Play was the first time we had to live up to our recording as opposed to the other way around," Doyle adds. "Expecting what was coming up in our concert world for the next couple of years — noisy, beer garden and hockey arenas — we needed the ammunition. I feel like on Play, we accomplished that."
NO ORDINARY DAY: THE POWER OF MUCH
Great Big Sea's songs did not receive regular radio airplay or chart in the Top 10, but they were blessed by the power of MuchMusic. The band made videos for several songs on Play that resonated with viewers— especially "Ordinary Day," — which reached No. 1. "That song remains a concert favourite in my set and is Great Big Sea's most popular song," says Doyle, who co-wrote the song with McCann.
Doyle had most of the song written when he hit a block, struggling to come up with the final verse. "I was frustrated sitting in the van one day," he recalls. "I handed it to Séan and he finished it in 10 seconds … I'm so grateful to have his poetry in it."
Beyond the video, what makes "Ordinary Day" unique as a Great Big Sea song is the studio tricks and innovative ideas.
"It may be the first song we recorded where we set a new standard with the studio version," Doyle says.
Play happened not long after the birth of Greenspoon's first child. A photo of his newborn sat on his console to inspire the sessions. The producer recalls how the memorable beeping sound at the start of "Ordinary Day" arrived.
"We borrowed a telegraph key from Signal Hill and added that to the start of the track, so it sounded like an SOS signal. I ended up playing the same melody on electric guitar later in the song. My assistant Ross Murray had the idea to nudge everything over one beat, so it feels like a surprise."
COVER CHOICES
Play features the following covers: "When I'm Up (I Can't Get Down)" by English folk rock group Oysterband, "It's the End of the World as We Know It (And I Feel Fine)" by REM, and "I Haven't Seen you in a Long Time" written by Scottish-Australian songwriter Colin Hay, best known as the frontman for Men at Work.
A long-time fan of Hay, this cover was McCann's choice. While the song is one that went unnoticed by most as it rarely made the band's set list, it did not go unnoticed by the original writer.
"I got to meet him before one of his solo shows many years ago in Rochester, New York," McCann recalls. "Later that night, before performing 'I Haven't Seen You in a Long Time,' he told the audience the following story:
'I want to thank the boys from Newfoundland who recorded this song. It wasn't a hit for me and it wasn't a hit for them, but at the time I was going through a divorce and was haemorrhaging money. I was also doing a kitchen renovation, which was almost as expensive! My contractor gave me the option of building a Corian countertop, cheaper and still durable or a fancy granite countertop that looked way more rock 'n' roll. I didn't know what to do. Then, a cheque from Canada and Great Big Sea arrived. I thank them for my granite countertop.'"
This cover is one of Play's slower and more pensive songs. McCann and Doyle both expressed how challenging it always was to insert one of these numbers into Great Big Sea sets because they did not fit audience expectations.
"We sold a brand that was 'get your party on,'" says McCann. "There was not much room in our brand for songs that were philosophical in nature … fans tolerated a couple on each record, but they did not really connect."
Doyle adds: "It was always a struggle to get a ballad in a Great Big Sea concert … even mid-tempo stuff. It got easier later in our career when we played more theatres, but when we played hockey rinks and beer gardens, people were so jazzed by the time we got on stage that just to keep up with their energy was a marathon."
RECORD FAST FACTS
Album: Play
Band: Great Big Sea
Members: Alan Doyle, Séan McCann, Darrell Power, Bob Hallett
Released: 1997
Recorded: The Battery Hotel (St. John's, Newfoundland)
Label: Warner Music Canada
Producer: Danny Greenspoon
Sales: 500,000
Awards: JUNOs (1998): two nominations. East Coast Music Awards (1998): won FACTOR Recording of the Year, Entertainer of the Year, Group of the Year, Song of the Year ("When I'm Up"), and Pop/Rock Recording of the Year.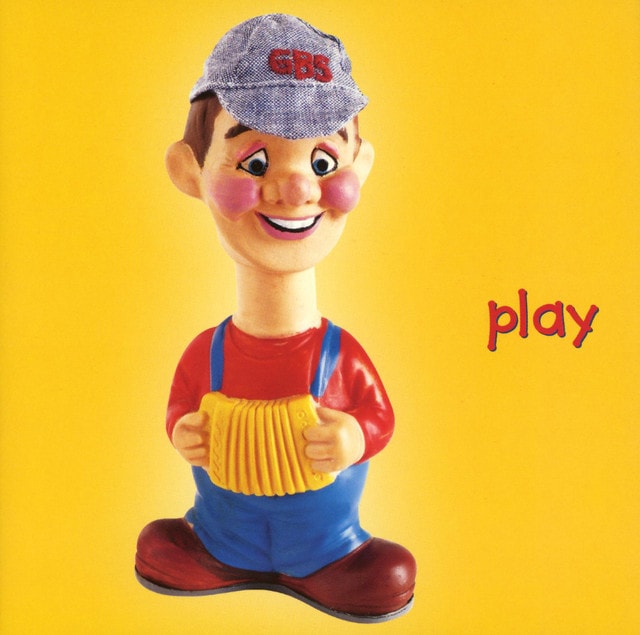 Track Listing:
1. Ordinary Day
2. When I'm Up (I Can't Get Down)
3. The Night Pat Murphy Died
4. How Did We Get from Saying 'I Love You'…
5. Donkey Riding
6. Haven't Seen You in a Long Time
7. End of the World
8. General Taylor
9. Seagulls
10. Recruiting Sargeant
11. Greenspond
12. My Apology
13. Jakey's Gin
14. Something I Should Know
15. Jolly Roving Tar
16. Rigadoon