If ever there was a venue to personify the spirit and resolve of the Halifax music scene, it might be The Carleton Music Bar & Grill.
Since opening almost a decade ago, the venue has built a reputation for its impeccable sound and programming of A-list Maritime singer-songwriters, indie rockers, writers, poets and comedians. Not to mention world-class out-of-towners, often flown in on the dime of its affable founder and talent buyer Mike Campbell's Air Miles reward points (true story). For his efforts, the venue has received numerous awards, including three East Coast Music Awards, seven Music Nova Scotia Awards for Venue of the Year, and the 2017 Canada Live Music Award for best small venue in the country.
The small but mighty room is as synonymous for its cozy live shows as it is for Campbell, the venue's original owner and the irrefutable face of the place, whose mug you may recall seeing during his days on the MuchMusic airwaves from 1988-2002, where he co-hosted Mike and Mike's Excellent X-Canada Adventures and filled the role of host/videographer on his own MuchEast show and, eventually Going Coastal.
For the proud Haligonian, spreading the gospel of the East Coast music scene wasn't something that he was ever going to stop doing, despite laying to rest his proverbial microphone with the TV channel.
Four years after ending his tenure with the network, Campbell and his former Much co-host Mike Rhodes concocted a plan to open a bar and restaurant with a small live music component, hoping to draw people in on whatever remained of the Mike and Mike brand.
"First of all, I'm not insane," says Campbell, over the phone from Halifax. "The idea of opening up a full-time music venue never even crossed my mind.
"My partners noticed that with the acts I booked that we'd fill the place, so they started insisting I book more acts."
With decades of know-how and industry connections behind him, he secured East Coast favourites like Joel Plaskett, Jill Barber, Matt Mays, Jenn Grant, Gordie Sampson, Rose Cousins, Matt Andersen, Amelia Curran, Jimmy Rankin, Lennie Gallant, David Myles, the late Ron Hynes, and others.
And thanks to his Air Miles fly-in model, Campbell continued to put his influence and limited resources to good use by flying up singer-songwriters and then assembling backing bands of all-star East Coasters on their behalf, specifically for events like the Halifax Urban Folk Festival (HUFF). Because of this, he's also managed to bring in international headliners, such as Robyn Hitchcock, Dave Pirner (Soul Asylum), David Lowery (Cracker, Camper Van Beethoven), Chuck Prophet, Midge Ure, Alejandro Escovedo, Lloyd Cole; and celebrated Canadians, like John K. Samson, Art Bergmann, Moe Berg (The Pursuit of Happiness), Neil Osborne (54-40), Jane Siberry, Ron Sexsmith, The Northern Pikes, and many, many more.
But it's never solely been about the names that he was bringing in that made a night at The Carleton so special. There were many things at play: It was the 360-degree sound configuration, where guests could experience pristine sound no matter where they were in the space; it was the intimacy of the under-150 capacity room, akin to a one-on-one between audience and artist. The Carleton, as Campbell calls it, was created to be "a listening room."
To realize that vibe, Campbell implemented a no-talking policy during sit-down acoustic shows on weekdays, which he says came with a training period but people eventually came to appreciate and expect.
"I knew from attending shows at other places that I hated shows where people just talked openly through acoustic shows," he says. "It was usually up to me as someone who had bought a ticket to go up to another table, disrupt them, and ask them to please be respectful and keep it down—or better yet, 'Shut up!'"
That's not to say that things don't get a little rowdy during the venue's standing-only weekend gigs. In fact, all restrictions on yakking go out the window on a typical Friday and Saturday night. "There's definitely nights where if you can hear yourself think over the band, then good for you," Campbell says with a chuckle.
Rich history that goes back to 1759
Like many great Canadian music venues, The Carleton's origins are as important as the artists and epic live shows it's hosted. Located on Argyle Street in one of the oldest buildings in Halifax (built in 1759), its legacy as a hub for music-lovers goes back to the beginning of Halifax itself. To see it still standing two and a half centuries later is a testament to its resilience.
The Carleton (previously known as The Carleton House) was the former residence of Richard Bulkeley, a British army officer and provincial secretary of Nova Scotia who took part in the founding of Halifax, and is often referred to as "The Father of the Province."
Also an amateur organist and choir leader, Bulkeley is said to have enjoyed hosting parties with royalty and other high-ranking officers at his mansion home, The Carleton House, as much as he did promoting music at the nearby St Paul's Anglican Church. As such, he has also been described as "the father of music in English-speaking Canada."
Even the exposed stonework inside the venue's walls today are rumoured to have been built from the slate from the the Fortress of Louisbourg, which was taken from the French for a second time in 1758.
Around the turn of the 20th century, the mansion was expanded to become a hotel, where many vaudeville entertainers travelling through the city would rest their heads. Escape artist Harry Houdini is among those who stayed there.
It's easy to understand why Campbell considered it the ideal locale for his business aspirations. But for all the historical touch points, it's Campbell's amiable personality and tireless efforts to promote good music that's kept the space relevant centuries later.
Champion of music
Nashville-based singer-songwriter Steve Poltz, also a founding member of San Diego rock group the Rugburns and co-writer behind Jewel's massive 1996 hit "You Were Meant For Me," became fast friends with Campbell in 1998 after being interviewed by the then MuchMusic VJ during the press tour for his first solo album, One Left Shoe.
"He was such a fan of music, so we started talking, and he was like 'Hey man, I'm gonna come to your show tonight,'" says Poltz, speaking from the Toronto Pearson International Airport, coincidentally on his way to Halifax for a stint at The Carleton.
Campbell, of course, showed up and stayed for the entire gig. And being the good Maritime host that he is, invited Poltz over to his backyard booze can, called the Tiki Bar, afterwards. "It's kind of a famous hangout where everyone's been," he says. That list of "everyone" includes Guided By Voices, Deer Tick, Win Butler (Arcade Fire), the Tragically Hip, members of Broken Social Scene, Tom Cochrane, Sam Roberts, Ron Sexsmith, Sarah Harmer, 54-40, Big Sugar, Treble Charger, and the list goes on.
"I ended up sitting in his Tiki Bar and we had the best time. I was probably there until the sun came up, just yakking away, and that's when he put on Joel Plaskett Emergency. I fell in love with this song that he had called "Light of the Moon." I probably made Campbell play it 15 times. That guy is such a champion of music. He didn't have to do that, he didn't have to invite me to his house and show me this Maritime hospitality, and then play me Joel's record—but that's just Mike. That's how he rolls."
When Campbell eventually got The Carleton off the ground, Poltz was one of the first artists that he tried to book. Poltz has since played the venue an estimated 40 times since 2008.
"For Steve's early shows I offered a money-back guarantee," says Campbell. "I was like, 'After the show, if you can come up to me with a straight face and tell me that you didn't think that was worth your money, I'll give you your money back. And it won't be out of Steve's take, it will be out of my pocket; we'll never be friends again because you're an idiot, but I'll give you your money back. No one has ever taken me up on that. I also did that with July Talk."
In 2013, an on-the-rise July Talk was just starting to tour outside of Toronto when they performed at The Carleton for the first time. "I booked them on a Wednesday and nobody here had ever heard of them," says Campbell. "I'd seen the first video for "Paper Girl," and I called the agent back and said 'Yeah, we're doing this.'"
It was a wild sold-out show—their first sell-out outside of Toronto—that culminated in frontwoman Leah Fay romping around the stage with a lampshade on her head. That first gig made an impression on the local scene and the band would go on to sell-out two more shows at The Carleton that same year, along with another at the larger capacity Seahorse Tavern. "Then the band just got way too big for me to handle," says Campbell.
Hangout for the who's who of Halifax
Entering The Carleton is like "walking into a time capsule," according to Tanya Beers, an active member of the Halifax music scene, who's worked as a bartender at The Carleton since 2011.
The venue is plastered with old MuchMusic memorabilia and show posters of East Coast giants, like Thrush Hermit, Joel Plaskett Emergency and The Super Friendz, torn from the walls of the Marquee Club, where Campbell used to book talent from 2004-2005 (FYI: Before opening The Carleton, he also used to manage Plaskett with current manager Sheri Jones).
"As a kid I always wanted to be a VJ, but I was so shy," says Beers. "Watching Mike and Mike's X-Canada Adventures and MuchEast, I was just glued to that as a teenager. He was always interviewing new and up-and-coming East Coast bands. To get a job working side by side with Mike Campbell is sort of like a dream come true."
During her time working at the venue, she says she's had her fair share of run-ins with well-known musicians, yet it was another classic MuchMusic VJ that left her feeling a little star struck. "Earlier this summer [Kim Clarke Champniss] was in town for a visit with Mike, and I was working a day shift at the bar," she remembers. "I was like, 'Oh my god here he comes. I remember you from when I was a kid!'"
With music veteran Campbell at the helm, the venue tends to attract some notable figures—recognized personalities, Halifax music scenesters, touring acts—and people that just want to drop in and say hello to the beloved Haligonian.
"There's always people stopping in and asking for Mike," says Beers. "On a Friday or Saturday night you could pretty much see anyone. You'll see a lot of local musicians. I call them guest appearances. Sometimes if there's a band on stage and they see someone in the crowd, they'll call them up. If a band is playing and Matt Mays happens to be floating around, it's nothing for Matt to get up or Adam Baldwin to get up on stage. Sometimes if Joel Plaskett's in the house, he'll get up."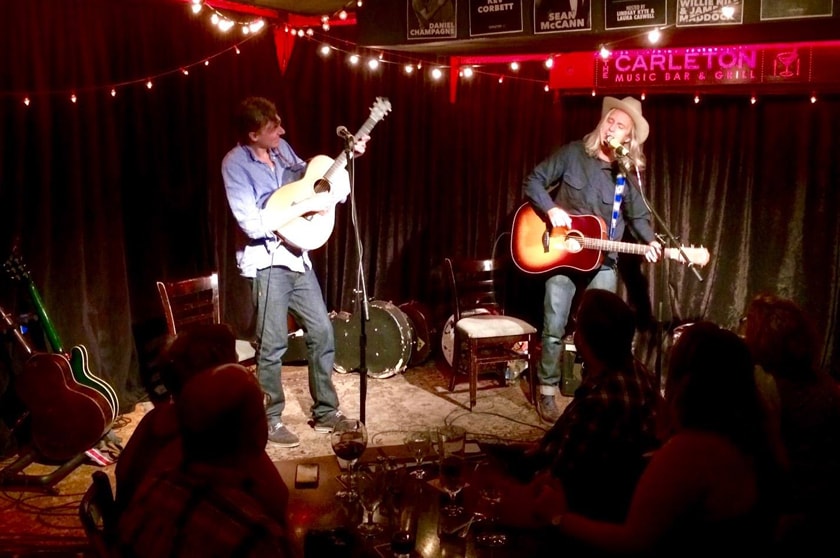 Poltz is one such artist to call 'ole Plaskett up to the mic for an impromptu set. "He came to one of my shows and I threw a guitar at him," he recalls. "He played with me on stage and then we unplugged and stood on tables and played for all of the bar. I love that memory."
On death's doorstep
Despite strong support from the local and touring music community, the venue has struggled to keep its doors open, in large part due to years of disruptive construction on the adjacent one-million-square-foot Nova Centre, along with the evening and weekend closures of the Macdonald Bridge that connects Halifax to Dartmouth, where half of the local population lives. It's resulted in less foot traffic to the area and other venues and restaurants moving from the neighbourhood or closing altogether.
"The result has been catastrophic," says Campbell.
In 2015, the venue was in serious jeopardy of closing. Not willing to go down without a fight, Campbell started a crowd-funding campaign to buy him some time, with the intention of raising enough funds to support The Carleton for a one-year period, after which construction was slated to end, though two years later it's still not complete.
A video plea used as part of the crowd-funding effort features a slew of well-known artists, such as Plaskett, Poltz, Adam Baldwin, Jenn Grant, Robyn Hitchcock, Stephen Fearing, Barney Bentall, and July Talk, imploring viewers to "Save The Carleton."
"It's important for us to rally together to help save The Carleton," Plaskett says in the video. "Mike does such a great job with local music. It's without a doubt one of the finest clubs in Canada and North America."
"If there is anything that you personally can do to keep The Carleton alive, please do it," follows Peter Dreimanis of July Talk, wearing a shirt with Mike Campbell's name scrawled across it.
"We really hope that you'll be able to keep this place alive and running," says Grant. "We're asking for your help."
Indeed, in his time of need, some of the same musicians that Campbell had rallied behind over the years lined up to show their support for him and the venue.
"When he was in trouble, all of these musicians were just like, 'Anything you need,'" says Poltz. "We all banded together because we didn't want to see him lose The Carleton."
"People came out in force," says Campbell. "We probably averaged $5,000 per month to keep our boat afloat. I asked for a year commitment because that's when the convention centre was supposed to be finished and, of course, it wasn't…Without that, we wouldn't have lived through that horrible year, and even with that it wasn't enough to keep us going."
While the campaign kept the venue above water for a short period of time, The Carleton continued to struggle, and several silent investors decided to pull out of the venture after years of not making any money. In the end, Campbell, too, had to sell his share of the space.
At the 11th hour, though, an angel investor—Karen Spaulding, a loyal customer and local businesswoman—came through to purchase the place. Her only caveat? She wouldn't buy the bar unless Campbell remained involved and it continued to be a live music venue.
"If it isn't an actual miracle, it's pretty damn close," says Campbell.
"With the new owner that's committed to it, we need to answer the question of how do we keep this place afloat so we can keep doing what we're doing?" he continues. "In this part of the world, there's no shortage of good artists…The music tradition lives here but, just like many other venues across the country, we're just having a tough time getting people to come out."
"Mike is like the patron saint of music," Poltz says. "There needs to be a statue of him, like there's statues of St. Anthony. Lord knows he doesn't make any money. That guy is constantly trying to make his mortgage, his phone bill, yet he is a tireless supporter of musicians.
"If he were to leave, there would be a void in Halifax. He's built that place…and he's cultivated a scene with his own two hands."
Make sure to visit The Carleton the next time you're in Halifax, and if you're in the vicinity visit it often. More info on upcoming shows can be found at thecarleton.ca.
– Julijana Capone
Julijana Capone will travel to Halifax to visit The Carleton and (if invited) the Tiki Bar if it's the last thing she ever does. She can be reached at julijana.capone@nmc.ca. Stay tuned for more articles about beloved, bygone, and still-kicking music venues across the country.
Update: Invitation to the Tiki accepted. Thank you, Mike Campbell!